Del Norte Martial Arts Academy
Tae Kwon Do - Chung Do Kwan
Classes:

New Classes Tuesday 5:30 - 6:45,
Wednesday 5:30 - 6:45,
and Thursday 5:30 - 6:45.
Rio Arriba Community Center in Espanola, New Mexico
(CR 9 House 5, San Pedro, NM).
HOW DO YOU GET STARTED

Del Norte Martial Arts Academy welcomes you to call Master Tony at 505-660-8349 or you can simply drop by any of our classes for further information. Interested students can ask questions to any of our Black Belt men or women since they are all qualified instructors.

We encourage you to come to class and work out a couple of times before deciding if our martial arts program is right for you. There are no long term contracts to sign and we offer very affordable monthly rates. We also have great family discounts and we encourage other family members to consider joining our excellent martial arts academy.

We hope that the information found on our web site will help to answer some of your questions. It is our goal to teach Tae Kwon Do - Chung Do Kwan style to all interested students. We follow the strict teachings of Grandmaster Dong Hoon Kim who believes that all disciples of Tae Kwon Do should have a clear understanding of three fundamental elements of martial arts: spirit, mind, and training.

Student Information:

Beginner Students

Beginner Students start with learning the basics; stances, basic punches, blocks, and kicks. Beginner students will also learn class protocols, self-respect, and respect of others. All these basic techniques will be used in future training. The Beginner Student will also work on coordination, self-confidence, discipline, and a good attitude.

Beginner Students should wear sweat pants and T-shirts. Student's workout barefooted so that the feet can be toughened up and strengthened. This is because in Tae Kwon Do the kick is one of the most important techniques used. Tae Kwon Do is a full body workout that will help students build confidence, self-esteem, strength, and flexibility.

Advanced Students

Advanced Students work on advanced forms, advanced kicking techniques, and board breaking. Advanced Students should continue to work on coordination, self-confidence, discipline, and a good attitude while also employing speed, focus, power, and balance to all the martial arts techniques.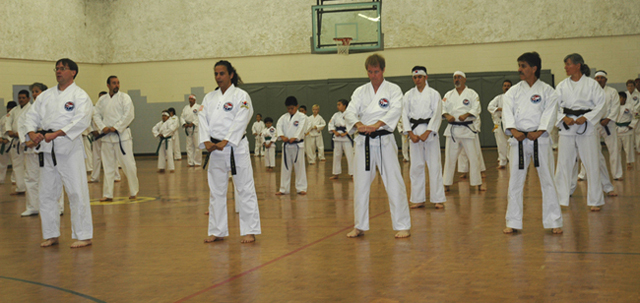 Copyright © AdrenalineKick.com
The contents of this site, including all images and text are Copyright © AdrenalineKick.com.
The contents of this site may not be reproduced in any form.